You think it's ridiculous ? We find it ridiculous when you slide off the bar in pull-ups or muscle-up, can not hold the barbell, dumbell or kettlebell anymore.
Stop the Pain :  A common cause of elbow and wrist pain is an imbalance in the forearm muscles. Golfers / tennis elbow and the carpal tunnel syndrome are the result. With the grip optimizer, you can stretch your forearm flexors while strengthening your extensors !
Who needs a grip optimizer ? Everyone ! Whether you need a lot of gripping and holding through your sport, sitting at work on a PC, or just a blatant PS4 gambler, the grip optimizer ensures that you can pursue your hobby or job without pain.
How strong are your forearms really ?  The grip optimizer comes in 5 different strengths.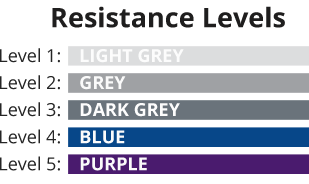 This allows you to customize the resistance individually  and gradually increase the level of difficulty. The goal should be, for example, to create 10 controlled repetitions in the extension at the same time as the strongest two resistances (see video below).
Everywhere:  The compact and robust transport box allows you to take the grip optimizer everywhere. Just put it in your sports or work bag and you can always work on your forearm health.
Free of latex :  To exclude allergies, the Powerfingers are free of latex and instead made of durable silicone.
This is how the grip optimizer works :